"TNC"
THE NAKED COWBOYS
​
with so much experience,
They have forgotten more songs than most people know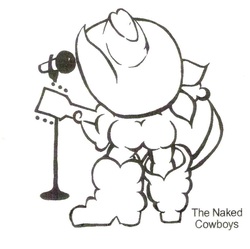 THIS IS YOUR DADDY'S COUNTRY MUSIC!
REAL COUNTRY MUSIC
Classic Country and Classic Rock collide to create ~The Naked Cowboys ~
Southern Rock at it's finest. This group never disappoints!
The Naked Cowboys are a 5 piece classic country and southern rock band. (and a few current country tunes!) This talented groups comes from a solid back ground in the
entertainment business
. Made up of members from the original Naked Cowboys, The White Water band, The Rubies, The Killebrews, and The LAW, This band brings Energy, Professionalism, and Style to the Stage. There's something for everyone. Tim ~ lead guitar and vocals, Dan ~ bass and vocals, Jake ~ lead guitar, steel guitar, and vocals,
Harry ~ Drums (and vocals too, they just don't mic him), Tom ~ rhythm guitar & vocals
CHECK US OUT ON
www.facebook.com/pages/The-Naked-Cowboys-Band
Booking information:
email:
lenaberdine
@msn.

Lena @ 612-272-9086 (call or text)
---